Cardinal Conclave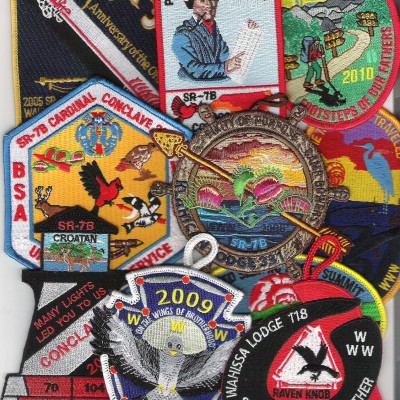 Section SR-7B includes six OA lodges that cover the eastern two-thirds of North Carolina.  The following lodges make up the section:  Tsoiotsi Tsogalii #70, Occoneechee #104, Croatan #117, Wahissa #118, Nayawin Rar #296 and Klahican #331.  From North Carolina's earliest area meeting in the 1940s to today the territory covered by these lodges has remained in the same section.    Through the years the section has added and lost a few lodges and had different designations.  It went from Area I to Area 6A, Section SE-3A to SE-7, and from SR-7 to SR-7B.  The section uses the name "Cardinal Conclave" for its big annual event.  While the section has only six lodges it claims the designation of holding the nation's largest conclave each April.  In 2013 a total of 1,701 Arrowmen attended the section's conclave at Camp Durant.
News

Klahican Lodge 331 will host the 2014 SR7B Conclave at Camp Bowers the weekend of April 25-27.  The conclave is expected to bring over 1,000 Arrowmen to White Oak, North Carolina.  In a stroke of luck for patch hounds the neighboring council and lodge are hosting the 2014 Dixie Fellowship just under two hours drive …Read More

This video takes you inside the non-stop Boy Scout patch trading at the 2015 Section SR7B Cardinal Conclave. Held at Camp Tuscarora in Four Oaks, North Carolina this was the largest conclave in the nation during the centennial year of the Order of the Arrow. Please leave comments below and share!
Checklist
Memorabilia History

It has been twenty-five years since John Pleasants and I issued the book "North Carolina Patches of the Order of the Arrow" in 1989.  This was in the day before cell phones and the Internet.  Personal computers existed but were very expensive and only businesses were using them.  Patch trading was done primarily person-to-person at …Read More

The 2011 SR-7B Section Conclave was held at Camp Raven Knob located near Mt. Airy, NC on April 15 – 17 and hosted by Wahissa Lodge 118. Rob Orr served as Section Chief.  He was not elected to the job, but took over after the untimely death of Michael Turner on May 1, 2010. Over …Read More

Section "3-A Traders" was an early attempt to catalog North Carolina OA issues for lodges in Section 3-A shortly after it was changed from Section 6-A.  I printed these on a mimeograph machine in the Alpha Phi Omega fraternity office located in the basement of Smith Building on the UNC-Chapel Hill campus. Download the PDF Booklet Submitted by …Read More

The OA comes to North Carolina In early 1933 Greensboro Council hired a new Scout Executive, Frank W. Braden.  He was an experienced professional Scouter having worked in Birmingham, Alabama.  While there he was a charter member of their Order of the Arrow Lodge, Cherokee Lodge 50.  In a Special Camp Bulletin he advised Scout …Read More